While attending or hosting a Zoom session, you have options for how you view the video feeds of yourself and the other participants. You can switch between views by locating the view options on the top-right corner of your Zoom window and selecting the option you wish to use.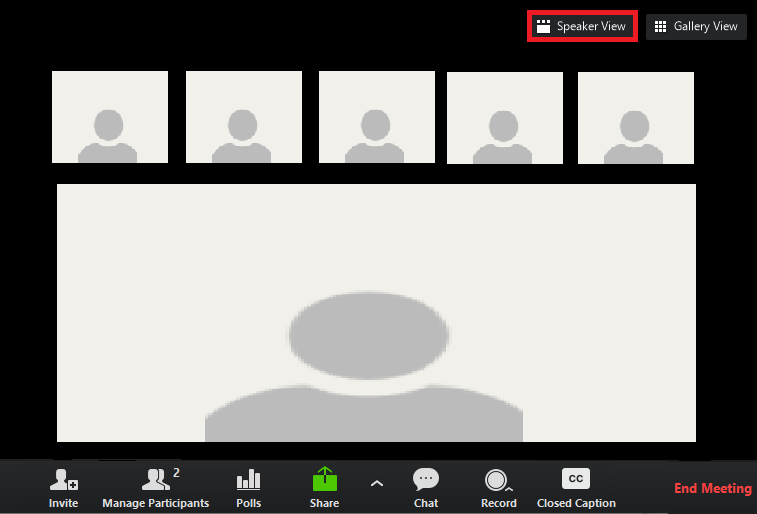 Active Speaker View
The default view in Zoom is active speaker view, which features whoever is speaking in the main Zoom window and allows you to toggle through the rest of the participants from smaller videos at the top of the screen.
Gallery View
To view all meeting participants equally you must be in gallery view. This will display video feeds for up to 49 participants, including yourself, in the main Zoom window. Any remaining video feeds can be accessed by toggling to the next screen.
Mini Window View
If you need to minimize the Zoom meeting in order to access something else on your computer, you can Exit Full-Screen Mode and use the minimize feature on your browser to collapse the meeting. Zoom will remain on your screen in a very small window that can be dragged around and repositioned while you access other things on your computer. Select the Expand icon on the Mini Window to return to the main Zoom session window.
Layout Options While Screen Sharing
While you are screen sharing, the video feeds of other participants are moved to an adjustable panel. You can adjust which view of participants you see in the panel by selecting the desired icon from the top bar of the panel. You can drag the panel around your screen as needed.
Active Speaker View
Gallery Strip View
*will appear horizontally when placed at the top or bottom of your screen, or vertically when placed on the side of your screen
Gallery Grid View
*You must have at least 6 people in the session to use gallery grid view
Layout Options During a Screen Share
If someone else is screen sharing during a Zoom session, the participant video panel will not pop-out as it does when you are screen sharing but will relocate to the top of the Zoom meeting window. You may still switch between active speaker and gallery view.
By clicking on the black "View Options" tab at the top of your screen, you can switch to side-by-side mode to move the participant video panel to the side of the Zoom window.
*From side-by-side mode, you can adjust the ratio of shared-screen window to participant panel by dragging the partition between the windows left or right.